Our Safety Program
Safety is firmly embedded in the Morris-Shea corporate culture and construction methodology. The Morris-Shea EHS Program operates in full compliance with all safety and health regulations established by federal, state and local governments.
Our EHS program includes site-specific planning, accountability, attitude and ongoing training initiatives. Each project is closely analyzed to identify and mitigate risks to the health and well-being of our workers and the public.
Every Morris-Shea team member at the worksite shares responsibility to maintain a safe working environment. Foremen and superintendents are directly accountable for our crew's safety, but corrective action regarding safety hazards is appreciated and encouraged at all levels of employment.
All project personnel must participate in the company's extensive safety orientation program, which includes recognition of safety and environmental health issues as project priorities. Morris-Shea believes it is the company's responsibility to provide its workers with the tools required to implement an effective safety program.
Environmental awareness and sensitivity to the concerns of the communities in which we work are also important elements of our safety initiative. Maintaining the quality of life for residents and businesses in neighborhoods impacted by Morris-Shea construction equipment and team members is essential to the safe progress of the work.
It is the policy of Morris-Shea Bridge Company, Inc. to provide a safe and healthful place of employment at all projects, fabrication facilities, warehouses and home offices. In order to accomplish this goal, Morris-Shea Bridge Company, Inc. has established an effective Safety, Health, and Environmental Program to ensure employees have the knowledge and understanding of proper work practices, duties, and responsibilities regarding their employment. The program is intended to fully comply with applicable federal and state legislative safety, health, and environmental requirements.
Morris-Shea Bridge Company, Inc. management personnel will facilitate the implementation of the Safety, Health, and Environmental Program and will assure proper coordination with client and construction management site safety requirements. Morris-Shea Bridge Company, Inc. will provide guidance in decision making, allocate the necessary resources, and provide an organizational structure that is appropriate for an effective safety, health, and environmental program.
All employees are expected to comply with the EHS Program and applicable site/project specific requirements. Employees must accept ownership of the safety process and contribute toward the overall success of the program by conducting themselves in the safest manner possible.
Morris-Shea Bridge Company, Inc. places the highest value on the health and welfare of our employees, customers, clients and community. We are committed to continuous improvement and will manage our Safety, Health, and Environmental Program to produce results that support the concept of Zero Incidents.
Richard Shea III – Vice President
Safety and Health Commitment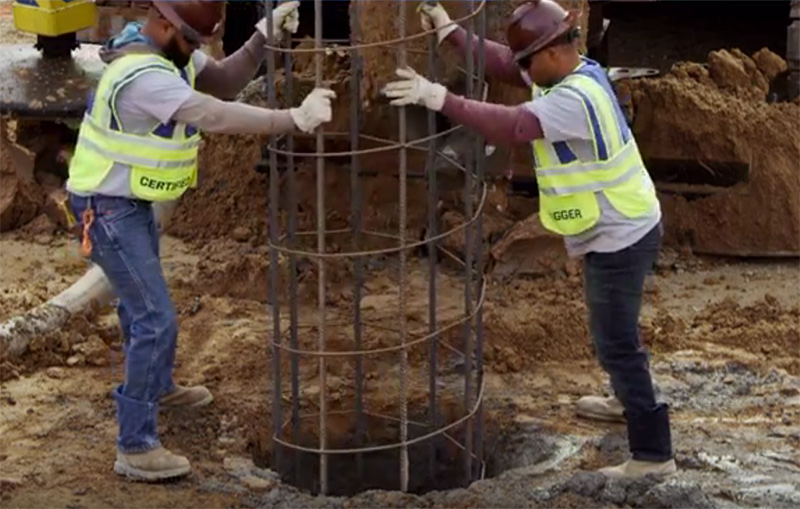 Morris-Shea is dedicated to fostering a healthy and safe workplace. Every person who works for us, or with us, should expect to remain safe in all Morris-Shea work environments. Our ultimate goal is to have zero safety incidents through the effective management of safety in all our operations.
Morris-Shea believes all injuries and occupational illnesses are preventable. Toward this end, our entire team works to prevent and correct unsafe behavior or work conditions. It is every Morris-Shea employee's responsibility to look out for fellow workers and speak up when observing unsafe activity. Everyone at a Morris-Shea jobsite has the authority to stop work until it is safe without risk of repercussions.
Safety Environmental Mission Statement
We encourage our employees to reach their full potential. Morris-Shea is renowned for offering one of the most comprehensive training programs in the industry.
Our training program has two equally important purposes:
Make employees more proficient – and safe – in their present jobs
Prepare employees for their next jobs, as agreed between supervisor and employee
Our wide variety of programs vary from OSHA required courses to personal hands-on material. In addition to formal courses, Morris- Shea employees have continual access to support and training materials.
Employee Training Opportunities (partial list):
HAZWOPER
Transportation Worker Identification Card (TWIC) Driver Qualification Requirements
Project Management Crane Rigging and Safety OSHA 10 / 30 Safety Basic Plus
Safe Worker Access Consortium CPR, First Aid & AED
Fall Prevention and Protection (working at heights) Defensive Driving
Job Start-Up
Supervisor Safety Leadership Silica Exposure and Control Traffic Safety