The Only Field-Proven Drilled Displacement Pile System
The DeWaal Drilled Displacement Pile System offers an innovative alternative to augercast and driven piling. Morris-Shea installs these unique piles with purpose-built equipment and exacting methods that ensure the production of high quality deep foundations. The DeWaal Pile System provides uncommon load strength and minimizes the contamination and disposal concerns related to spoils brought to the surface by augercast installations.
Some deep foundation contractors employ equipment and methods in drilled displacement pile projects that were actually designed for piling applications such as augercast. These contractors often apply drilled displacement equipment that utilizes a small diameter pump line located in the center of their tooling, deploying a fluid grout mix with the same pouring method as conventional augercast piles. A quality drilled displacement installation requires that grouting and tool extraction be coordinated, to prevent reductions in pile diameter (necking) from occurring. Groundwater can also bleed through the freshly placed grout producing a poor quality pile.
Each project's independent geotechnical report includes testing and reaction pile logs, load deflection plots, strain gage data, Thermal Integrity Profiling (TIP) and Pile Integrity Testing (PIT). Inconsistent grout placement, severe groundwater bleeding and cross sectional reductions are often documented in these reports when improper installation methods and equipment are used.
Morris-Shea's DeWaal Piles outperform other contractor's poorly installed drilled displacement foundations. Unlike the augercast pile method of grouting used in non-DeWaal systems, Morris-Shea's DeWaal tooling is constructed on a 12-inch diameter steel casing that is capped with a water-tight, sacrificial endplate. Upon reaching final drilling depth and prior to extracting the DeWaal tooling, the 12-inch diameter temporary casing is pumped full of a self-consolidating, coarse aggregate concrete mix, which then functions as a large concrete tremie pipe. Once the tremie is fully charged, the DeWaal tooling is slowly withdrawn from the borehole while high-pressure concrete flows from the tremie.
This field-proven method creates a monolithic, high quality, high capacity DeWaal Pile, free from the risks of necking or bleeding. This simple and easily repeatable installation process sets the DeWaal Pile System apart from all imitations. DeWaal Piles are installed with diameters from 12 to 24-inches and at maximum depths of 165-feet.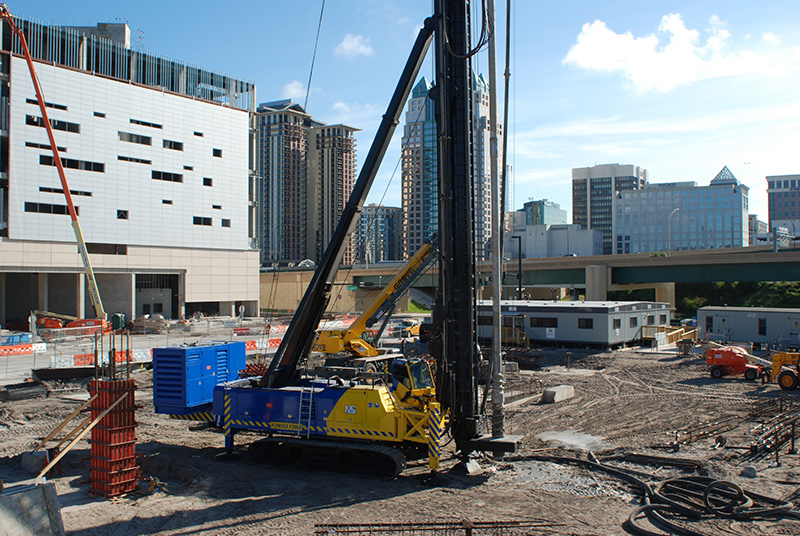 Installing DeWaal piles since 1992
Morris-Shea has successfully designed and installed hundreds of thousands of DeWaal Drilled Displacement Piles for projects throughout North America and the Caribbean. DeWaal piles are the original Drilled Displacement Pile system invented in Europe in 1985. Morris-Shea is the U.S. patent holder and sole licensee for DeWaal Drilled Displacement Piles in the Western Hemisphere and has been installing DeWaal piles in the U.S. since 1992.